The ServiceNow talent market continues to be the tightest talent market I've witnessed in my nearly 20 years of working in technology recruiting. Acorio has been winning the war for ServiceNow talent by attracting and retaining the best people working in the ServiceNow ecosystem today. Landing them was not easy. We have had to compete fiercely for the best every single day since our doors opened for business. With this continued talent shortage, Acorio realized it was going to have to be strategic and get creative to ensure we continue to meet our hiring demands as we grow.
Acorio + Boston = Fertile Ground
With our vastly talented team of ServiceNow heavyweights, and headquarters in a city home to so many well-educated, bright and blossoming minds, we figured we had fertile ground to cultivate a homegrown team of up-and-coming ServiceNow expert consultant – both in technology and process. We decided we would add to the ServiceNow ecosystem talent pool by "growing our own". We got to work on building a quick and effective program and Acorio Academy was born!
The first Acorio Academy kicked off last October and was a huge success! It began with our standard 2-day StartNow onboarding workshop, followed by an intensive multi-month learning program. The curriculum was comprised of both classroom and hands on learning. Classroom sessions were taught by a variety of experts on the Acorio team. This gave experienced employees the much-desired chance to mentor and teach.
Hands on learning included research assignments on the ServiceNow Wiki, tinkering on their personal ServiceNow developer instance, shadowing experienced Consultants on customer calls, meetings and much more. Not to mention they got to be part of all of the fun stuff that we do here at Acorio on a regular basis like happy hours, all-company retreats, attending industry events, joining intra-company groups and much more!
Throughout the Academy, trainees were exposed to the entire ServiceNow product suite, taught the technical skills to work on the platform, and learn about business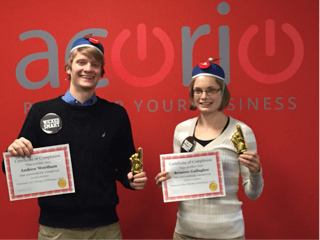 processes, our methodology and consulting the Acorio Way.
I am happy to report that our first Academy cohort has graduated and they are now working on billable customer projects and fully contributing to our very unique [corny] culture (as witnessed in this graduation photo).
The second Acorio Academy will launch in March 2016 and we have been working with Boston-based colleges and technology bootcamps like Launch Academy to recruit promising talent that we can mold into the next generation of ServiceNow idols!
For more information about Acorio Academy, please email Jen Miller, Director of Talent, Learning & Development at Acorio at: jmiller@acorio.com.
Interested in working at Acorio? See our openings at: www.acorio.com/careers