If you've been keeping up with Acorio, then you've likely read a little bit about our culture and some details about our small but powerful arsenal of tools and traditions we employ to support our tight-knit culture.
One of our most important employee events is our company-wide Summit. The Summit has traditionally been a time for the entire team to gather and get off the grid for a few days. This time is used for team bonding, discussing important issues facing the company and collaborating on how to grow in the future. Months before the Summit happens, team members start buzzing about activities we want to do when we are all together. It unifies us during the months when most employees are working remotely or at customer locations.
Our first Summit was a success and proved to be valuable for maintaining the culture that differentiates us from other companies.  The first Summit took place in San Francisco on the final night of our industry conference, Knowledge14. Held at "The Powerpad" (a loft apartment we rented primarily for hosting customer meetings during the conference), the Summit featured informal "rah rah" talks by leadership and a team-based cooking competition. For several hours we shut out the rest of the world and just focused on us.  The most important thing that came out of our first Summit was the strong bond developed between our team. This Summit helped build a strong foundation for future events.
Some key elements in our first Summit were:
Time apart from distractions and work
A chance to fire up the troops by the leadership team
Team building
Developed the "A-Team" mentality
Our second Summit took place at our Boston headquarters and lasted two full days and nights. It featured a hackathon, focused break out sessions, and a boat ride to an island for a lobster bake. We gathered the entire company for multiple sessions where our team members candidly shared their ideas on how we can innovate and optimize our business.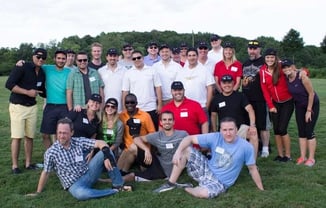 Some key elements in our second Summit were:
The birth of our hackathon tradition- a time for company-wide, focused innovation
Set the tone for how we communicate openly and transparently as a company
The most recent Summit started with an inventive ice breaker called "The Marshmallow Challenge" and ended with a raucous round of bowling.  Crowd sourcing sessions included "Down with the Dots" (pick your top three challenges that the company should focus on) and"Flair-emony"– our tongue-in-cheek ceremony awarding various employees for their peer recognition contributions.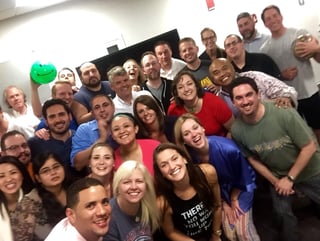 Some key elements in our third Summit were:
Determining as a group what top initiatives the company should tackle
Reinforcing our unique culture
The Summit's true power though happensin between all of the sessions and the events.  It's in the unplanned down time where people can just be with each other and talk face to face instead of having a laptop in between them.  People leave the Summit with a true sense of connection to their teammates and the company's mission.
Right about now, most of us have the "post-Summit" blues.  Luckily these blue feelings get drowned out by all of the collaboration and hard work that gets done around here on a daily basis. I can't wait to start planning the next Summit!
Interested in working at Acorio? See our openings at: www.acorio.com/careers