The announcement of the Helsinki release and Service Portal was an exciting moment for ServiceNow. They have spent the last year working on a better way for users to build new apps and have a better user experience and it has paid off. However, the Service Portal has also caused a bit of confusion in the ServiceNow community. I liken this confusion to the decision to buy the new Prius. There are many factors involved in the decision depending on your current car situation. Do I need the new Prius?
At the keynote for Knowledge16, Frank Slootman announced Service Portal as the replacement for CMS (Content Management System). While Service Portal will be a new way to deliver sites on ServiceNow, it is not the replacement for CMS yet. The main reason it's not: there is no easy, automated migration path. In a similar fashion, the new Prius isn't actually a replacement for an old Prius. Both cars are hybrid vehicles that have great gas mileage and similar features. Just like the Prius,
ServiceNow also offers similar features via CMS and Service Portal, but with different models. You should consider them separate applications that are both capable of presenting ServiceNow content to the end user.
This is actually good news for customers wanting to move to Helsinki.  There is no rush to move into Service Portal since CMS will continue to deliver robust end-user experiences. Also, you do not have to retool your ServiceNow development team on AngularJS if they are comfortable developing solutions with Jelly. The same would apply to someone who already owned a later-model Prius. There's no rush to get the latest model when the core offerings are the same.
While there is no rush, that doesn't mean you shouldn't spend some time today considering the options. There are interesting changes in approach between CMS and Service Portal. However, good design and a well-planned user interface are still the keys to success with any service experience offering, regardless of your approach. That's why I would recommend taking a "test drive" before committing to see if it is the right fit for you. This means committing to regression testing for custom elements to ensure compatibility. The same is true of your request catalog offerings. That "new Prius" may have a completely redesigned interior console that doesn't lay out the same way as the previous model. In Service Portal's case, it doesn't have order guides where it was a major feature in CMS.
Service Portal could be the application that changes the ServiceNow community and overall direction for the platform. When the original Prius was released, it changed the paradigm for what a "green car" could be. A sub-culture of devoted followers made it something bigger than just owning a car. The exciting part about Service Portal is that it's not just a "portal" solution… it's an application development platform.  For the first time, customers can build specific applications using the ServiceNow platform geared towards the end user.  Not only will these applications have the power of ServiceNow's database and workflow, but they can also have fully-responsive designs that can deliver simple, modern solutions.  This could be a game changer.
So should you get that new Prius or not? There are many factors in making the decision to buy. Service Portal decisions are not always clear cut. There are many business use cases and strategies that need to be evaluated. To help facilitate this, I've put together some guidance to help make an informed decision based on conversations I've had with other clients.
These are just four of the most common use cases. If you'd like some specific help walking through your current or future portal and user experience strategy, we are here to help. You can reach us at info@acorio.com.

Case #1: I currently drive a gas guzzler and I am looking at the new Prius.
Translation: I'm a new ServiceNow customer without a portal and request catalog.
Recommendation: You should definitely get the new Prius (Service Portal).
Case #2: I have a different "green car", but I'm looking at the new Prius.
Translation: I'm a ServiceNow customer without a portal, but I have a request catalog.
Recommendation: You could either keep your current car or get the new Prius (CMS or Service Portal). Better take a few test drives.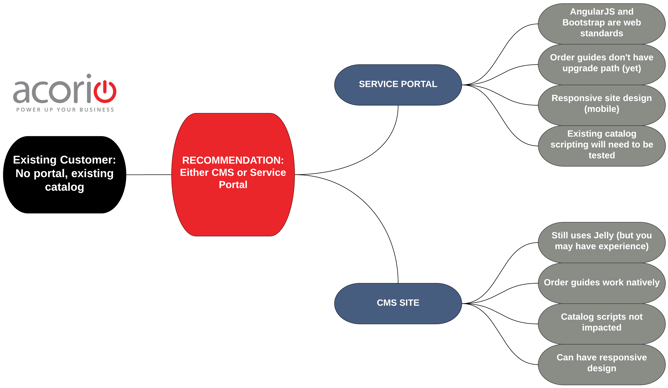 Case #3: I just got last year's Prius model.
Translation: I have and newly designed portal and request catalog experience.
Recommendation: Stay with your current Prius (CMS).

Case #4: I have the original Prius, but I'm looking at the new Prius.
Translation: I have an older portal and request catalog, but I like some of the features in the new Prius.
Recommendation: Test drive first, plan to make a switch to the new Prius (Service Portal), but don't rush.