Practical Asset Management: Start With ServiceNow's Discovery for Software
Asset Management
We've written before about the value of Asset Management. But given how daunting a full-scale asset management effort can be, a great first step with a strong ROI is to use ServiceNow Discovery for Software. This module automatically discovers your software assets (3rd party software products installed on computers in your environment), such as Microsoft Office, Adobe Photoshop, Google Chrome, etc.
Why start with Discovery for Software? More and more software vendors are auditing clients' usage and demanding payment for not following license agreements. Being noncompliant with those agreements can result in hefty
payments that your company wasn't planning – or budgeting – for. To say nothing of the time and energy your team will spend researching the information needed for the audit.
As an example of how this works, let's examine an installation of Microsoft SQL Server on a Windows machine. ServiceNow Discovery for Software will crawl your environment and will discover and write Software Package information to the following ServiceNow configuration tables:
Software Package — Discovered software packages by version.
Software Instance — Discovered software installations (Only available with activation of Software Asset Management plug-in).
For Windows Servers, Discovery pulls this information from the Windows Registry. It is important to note that a process that is running, such as Microsoft SQL Server express, may also be installed in the Registry and thus appear as a Software Package within ServiceNow.
Once you activate the Software Asset Management plugin in ServiceNow, additional tables are added to your system that will enable you to associate your software installations with the Rights that were granted via software licenses. Once configured, the system will use software counters to track your installations against the number of rights for each defined software license. Each software counter will show how many licenses are available, allocated, and in use. It will also show any unauthorized software installations.
A screen shot is provided below as an example. In this example of Microsoft SQL Server, Discovery has recorded the software installation of Microsoft SQL Server as well as many supporting components: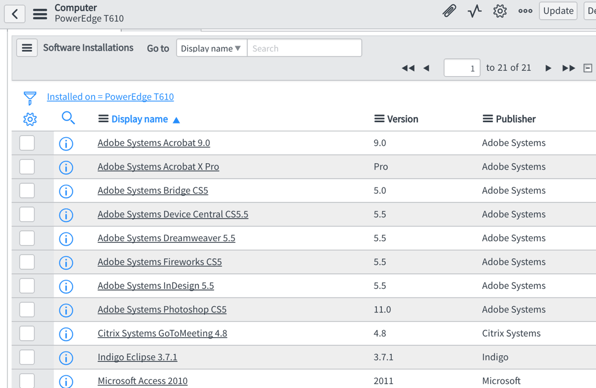 In addition to all of the financial and process benefits you get, implementing software asset management gives you another critical benefit: accurate, traceable usage statistics that you can show to a software vendor should your firm ever get pulled into a software audit.
Talk to us about how we can help you get an accurate picture of your software assets using ServiceNow Discovery module and Software Asset Management plugins at [email protected].