Have you ever taken your first bite of a new dish or cuisine and thought "OMG! What is in this? It is so delicious!" I can vividly remember my first visit to an authentic Thai restaurant and my first bite of Panang Curry. I was blown away. The flavors were exciting, bold, and fresh. It was like nothing I had ever tasted before and I loved it. Many years later I'm still trying to recreate that perfect dish. Some ingredients are fairly obvious – curry, coconut milk, and your protein of choice – yet others are subtle. Thai chili peppers for heat? Maybe some lemongrass? Fish sauce? Thai basil?
Being able to dissect and recreate an intricate recipe is a challenge to say the least. And world-class customer service is an extremely intricate recipe. We all know what excellent customer service "tastes like" but being able to recreate it is no small task. Some "ingredients" are obvious while others are subtle. Let's put our chef hats on and review three key ingredients that make up world-class customer service.
Let's begin with one of the fairly obvious, but often omitted, ingredients:Responsiveness. Responsiveness is not a measurement of how fast we resolve our customer's concerns. Rather, it is a measurement of how quickly we acknowledge what they are asking for. As part of that acknowledgement we must provide an expectation for when we can actually get the job done. I can still vividly recall conversations that I had with dissatisfied employees when I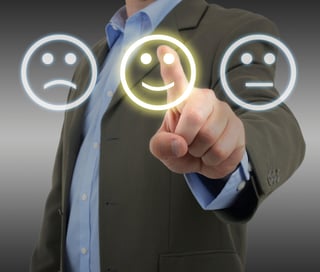 managed an IT Service Desk many years ago. The number one complaint was not how long it took to get something resolved. Instead, it was a lack of acknowledgement and a failure to set expectations for how long it would take to finish the assignment. While system-generated acknowledgement e-mails are a step in the right direction, nothing beats some real human-to-human interaction as soon as a customer asks for something.
Our second key ingredient is Empathy. A customer is someone who either directly or indirectly is paying us for a product or service. The very fact that she is paying us is evidence of her need for assistance. If we have the opportunity to connect with that customer, to better understand her needs and why she has asked for our assistance, we are then in a position to show true empathy. As humans, we can easily tell the difference between someone assisting us based on sheer duty compared to someone helping us because they are empathetic and truly understand how we feel. You can't fake empathy and genuine empathy is an essential ingredient in world-class customer service.
The final ingredient is Integrity. One of the worst things you can do to your customer is to be dishonest or unethical. If you're reading this blog it's likely that you do not intentionally show a lack of integrity when working with customers. However, without some self-discipline and structure, even the most well-intentioned service provider could miss a promised deadline, forget to follow through on a promise, or overcharge for services provided. While we can't avoid making the occasional mistake, we have complete control over how we respond in those situations. When we admit our mistakes, own up to our errors, and commit to rectifying problems that we created we build deeper trust with our customers. With deeper trust comes a stronger partnership, and ultimately, world-class customer service.
Now don't get me wrong, world-class customer service contains many more than 3 ingredients. My intention is not to provide the full recipe. Instead, I would like you to remember what world-class customer service "tastes like" and then identify which ingredients are missing in the service that you offer. This will be a lifelong endeavor, an exercise of continual service improvement. But as you continue to improve, that secret sauce will keep tasting better and better.
At Acorio we know a thing or two about world-class customer service. In fact, ServiceNow has recognized Acorio as having the highest CSAT scores among ServiceNow partners globally. If you are in the market for an implementation partner and high-quality customer service matters to you please contact us.